Pololu Micro Metal Gearmotors
These micro geared motors from Pololu have a cross section measuring only 10×12 mm.
The Pololu brushed DC gearmotors are available in a wide range of gear ratios from 5:1 up to 1000:1 and offer a choice between three different motors: high-power (HP), medium-power (MP), and standard. With the exception of the 1000:1 gear ratio versions, all of the micro metal gearmotors have the same physical dimensions except the 1000:1 ratio which is 3.5mm longer, so one version can be easily swapped for another if your design requirements change.
Pololu Micro Gearmotors
Note: The 1000:1 gearmotors can generate enough torque to damage themselves. The stall torque values given for those two motors are theoretical, and we strongly recommend you avoid stalling them.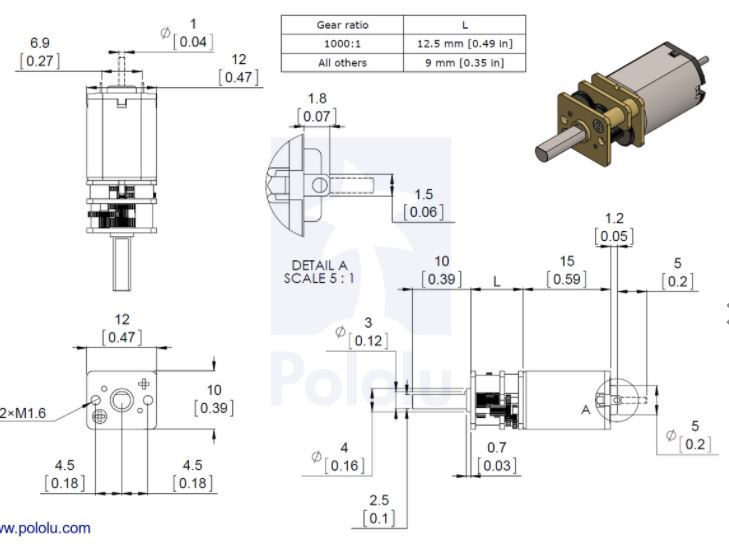 Above: Dimensions of LP, MP and HP Metal Gearmotors excl the HPCB type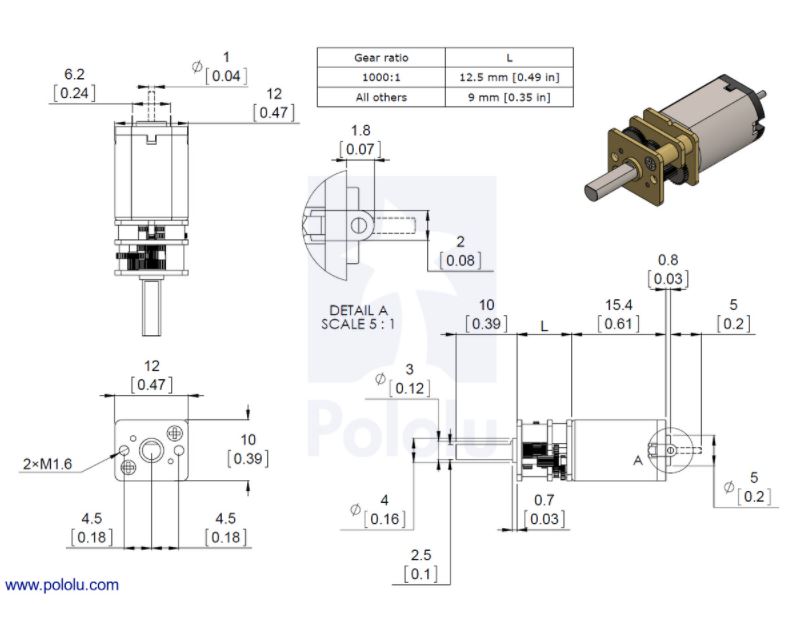 Above: Dimensions of the HPCB type Metal Gearmotors
Note: Stalling or overloading gearmotors can greatly decrease their lifetimes and even result in immediate damage. The recommended upper limit for instantaneous torque is 2.5 kg-cm (35 oz-in) for the 380:1 and 1000:1 gearboxes, and 2 kg-cm (25 oz-in) for all the other gear ratios; . Stalls can also result in rapid (potentially on the order of seconds) thermal damage to the motor windings and brushes, especially for the versions that use high-power (HP and HPCB) motors; a general recommendation for brushed DC motor operation is 25% or less of the stall current.