PT8211 is a 16 bit stereo digital to analog converter (DAC) chip. The output is a line-level signal meant for amplified speakers, stereo receiver, mixer or amplifier. It is not meant to directly drive headphones or speakers.
This kit includes the PT8211 chip, bare circuit board, audio connector, 1 resistor and 4 capacitors. DIY soldering is required.
This kit is not compatible with Teensy 2.0, Teensy++ 2.0 or Teensy LC.
Update: Teensy is now including 2 circuit boards with this PT8211 kit. This new board brings the 3 signals to pins 7, 20, 21 used by Teensy 4.x. If you are using Teensy 3.2, 3.5 or 3.6, solder the parts to the original board, without text between the capacitors. If using Teensy 4.0, solder with this new board which has "T4" printed between the capacitors.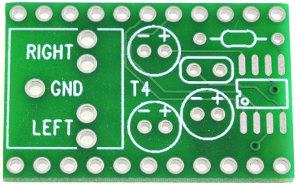 See the Teensy website here for build instructions.
Customers also bought....