Single Turn Finger Adjust Presets
Two types of finger adjust preset (trimmers) potentiometers. The first has an integral adjustment knob, the second type from Iskra has a hex adjustment hole into which you can insert an optional spindle.
This range of fully enclosed single turn potentiometer presets feature a finger adjustment knob with adjustment slot. Suitable for a wide range of applications.
10% tolerance
0.1 x 0.2in pitch spacing
UL 94V-0 flammability
Withstand voltage 600V AC
Insulation resistance ≥1GΩ
Effective travel 300°
Power rating 0.5W
Temperature range –55°C to +125°C
Temperature coefficient ±100ppm/°C
Starting torque ≤35mN m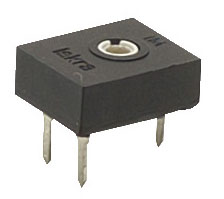 The Iskra range of fully enclosed single turn horizontal mounting preset potentiometers feature a hexagonal adjustment slot. A separate hexagonal spindle (2000-479) is available which allows easy finger adjustment of the control.


Pin positions compatible with Piher PT10 and Citec CT10 series
Iskra PNZ10ZA series
| | |
| --- | --- |
| Dimensions | 9.8 x 11 x 6mm |
| Pitch | 5 x 10mm |
| Tolerance | ±20% |
| End resistance | 2% |
| Power rating | 0.15W 40 C |
| Maximum voltage | 200V DC |
| Electrical rotation | 240 ±20° |
| Operating torque | 4 to 20 mNm |