Read more about our Shunt Regulators here
This shunt regulator can protect power supplies from voltage spikes generated by motor controllers they are connected to. This version has a precision-adjustable set point (4 V to 35 V), a shunt resistance of 4.10 ohms, and a total of 32 SMT shunt resistors populated on both sides of the PCB.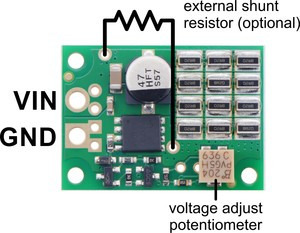 Pin Out of the adjustable version of the Shunt Regulators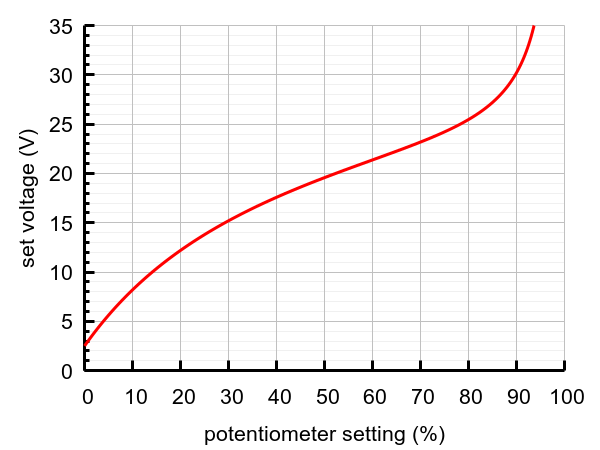 Set voltage vs. potentiometer setting for the Shunt Regulator: Fine-Adjust HV, 4.10Ω, 15W.
When setting the voltage with a potentiometer, or to test the exact voltage of any particular shunt regulator, connect a higher voltage through a current-limiting resistor of at least several hundred ohms, and measure the voltage at the regulator. (Without the current-limiting resistor, the shunt regulator would do nothing if it is set higher than your test supply voltage and would go up in smoke if set below your supply voltage!) Typically, you should set your regulator to be about 10% above the supply voltage you are trying to protect.

Wiring diagram for adjusting the set voltage on a 'fixed Shunt Regulator.
See 2900-308 & 2900-309 for Shunt Regulators with an adjustable preset already on board.