This version of the FS5115M high-torque servo from FEETECH is specially modified to provide access to the feedback potentiometer through a fourth (green) wire, allowing you to directly measure the position of the output. This extra information enables more complex robotics applications, such as determining when the servo has reached its target, detecting when the output is blocked, or implementing your own higher-level closed-loop position control.
Key specs at 6 V: 0.16 sec/60°, 215 oz-in (15.5 kg-cm), 60 g.
Overview
The FS5115M-FB is a specially modified version of FEETECH's FS5115M standard-size high-torque analog servo that provides access to the feedback potentiometer through a fourth (green) wire, which makes it possible to directly measure the output angle. With this extra information, you can determine when the servo has reached its target position (or detect if something is interfering with its ability to get there). This feedback also enables more complex closed-loop control of the servo from your main controller.
The FS5115M-FB is a standard-size analog servo from FEETECH that can deliver more than twice the torque of standard-size servos with plastic gears thanks to its powerful motor and all-metal gear train. The output shaft is supported by two ball bearings for reduced friction.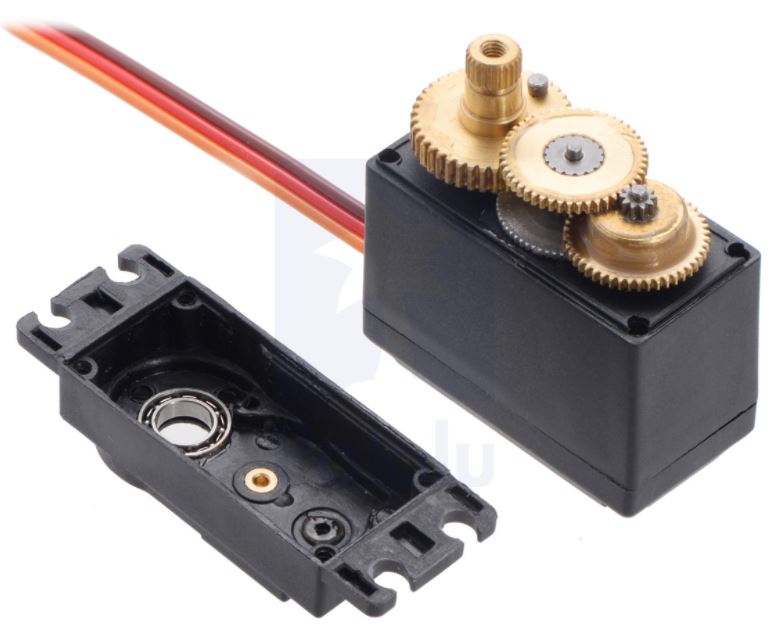 Included horns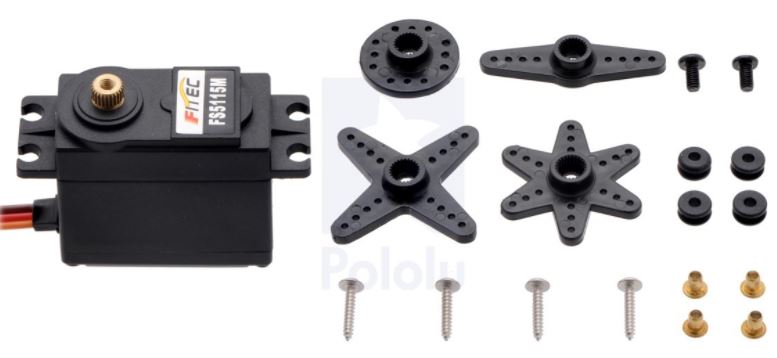 Like the FS5115M, the FS5115M-FB works with standard RC servo pulses, providing a running angle of approximately 180° over a servo pulse range of 500 µs to 2500 µs. The feedback voltage varies linearly over this range by a couple of volts.
The servo signal, power, and ground are provided through a 3-wire servo cable that is terminated with a standard JR-style connector, which is Futaba-compatible. The feedback is accessible through a separate green wire, these cables are approximately 12″ (30 cm) long.