Next Shipping Day 3rd December

We are now in the process of moving Technobots 120 miles North to the Town of Rugby. You can still place orders on-line as normal but they will not be dispatched until after we re-open on the 3rd December
Machining Services
Our machine shop is also being re-located so we are unable to carry out machining modifications on gears, sprockets, pulleys etc. Any order placed which includes machining options is unlikely to be processed until mid December.
---
Best Selling Products in this Section
0.5 inch 081 Steel Chain Sprockets
A narrow version of our 08B heavy duty sprockets suitable for use with simplex 081 bicycle type chain in our most popular sizes. Sizes we do not stock at technobots are available through our gearsandsprockets website that offers a far greater range of transmission components.
These sprockets are supplied with a pilot bore that can be machine to a larger accurate diameter (subject to boss size) although many users find the pilot bore quite acceptable. Using our 'Custom Machining' service, we can not only bore out these sprockets but also drill and tap for set (grub) screw fixing. See the 'Custom Machining' tab with each product for more information.

Nominal tooth width: 1/8"
Boss width: 14 to 25mm depending on sprocket size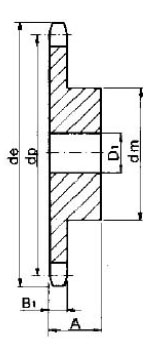 81
Pitch 1/2"



Bore size is subject to change from table below, if bore size is critical then select 'Custom Bore Size' with bore required when making purchase.

Overall Width 'A'
See Below


Tooth Width 'B1'
1/8"


Teeth
Diameter 'de'
PCD Ø 'dp'
Boss Ø dm
Bore Ø 'D1'
Overall Width


Teeth
Diameter 'de'
PCD Ø 'dp'
Boss Ø dm
Bore Ø 'D1'
Overall Width
8
37.2
33.18
21
8
14


24
103
97.29
60
12
20
9
41.5
37.13
25
8
14


25
107.1
101.33
60
12
20
10
46.2
41.1
28
8
14


26
111.2
105.36
70
16
20
11
49.6
45.07
31
8
16


27
115.4
109.4
70
16
20
12
53.9
49.07
35
8
16


28
119.4
113.42
70
16
20
13
58.4
53.06
39
8
16


29
123.4
117.46
70
16
20
14
62.8
57.07
43
8
16


30
127.5
121.5
70
16
20
15
66.8
61.09
47
8
16


31
131.5
125.54
70
16
20
16
70.9
65.1
50
10
18


32
135.5
129.56
70
16
20
17
74.9
69.11
50
10
18


33
139.6
133.6
70
16
20
18
78.9
73.14
50
10
18


34
143.6
137.64
70
16
20
19
82.9
77.16
50
10
18


35
147.6
141.68
70
16
20
20
86.9
81.19
50
10
18


36
151.7
145.72
70
16
25
21
91
85.22
60
12
20


37
155.7
149.76
70
16
25
22
95
89.24
60
12
20


38
159.8
153.8
70
16
25
23
99
93.27
60
12
20


40
167.8
161.87
70
16
25
Just a few of the companies Technobots are an official distributor for: