Machining Services
Our machine shop has also been re-located as part of the business move to Rugby, we anticipate the machines will be operational around mid December. Orders placed which include custom bore sizes and tapped holes will be processed as soon as the machines are spinning again.
---
Best Selling Products in this Section
Single Turn Finger Adjust Presets
Two types of finger adjust preset (trimmers) potentiometers. The first has an integral adjustment knob, the second type from Iskra has a hex adjustment hole into which you can insert an optional spindle.
This range of fully enclosed single turn potentiometer presets feature a finger adjustment knob with adjustment slot. Suitable for a wide range of applications.
10% tolerance
0.1 x 0.2in pitch spacing
UL 94V-0 flammability
Withstand voltage 600V AC
Insulation resistance ≥1GΩ
Effective travel 300°
Power rating 0.5W
Temperature range –55°C to +125°C
Temperature coefficient ±100ppm/°C
Starting torque ≤35mN m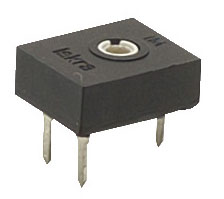 The Iskra range of fully enclosed single turn horizontal mounting preset potentiometers feature a hexagonal adjustment slot. A separate hexagonal spindle (2000-479) is available which allows easy finger adjustment of the control.


Pin positions compatible with Piher PT10 and Citec CT10 series
Iskra PNZ10ZA series
| | |
| --- | --- |
| Dimensions | 9.8 x 11 x 6mm |
| Pitch | 5 x 10mm |
| Tolerance | ±20% |
| End resistance | 2% |
| Power rating | 0.15W 40 C |
| Maximum voltage | 200V DC |
| Electrical rotation | 240 ±20° |
| Operating torque | 4 to 20 mNm |
Just a few of the companies Technobots are an official distributor for: