This version of the programmable engine sound unit has been superseded by a MK 2 version that has the added option of a potentiometer input as well as the standard RC input.
New for 2012 The programmable engine sound system, which allows you to alter its character to suit your type of model
This Sound System carries on from where the original Technobots Petrol and Diesel Sound units left off, and not so much replaces them as compliments them. The original Sound units continue to be small, affordable, entry-level products whereas this Sound System in a slightly larger package scopes the sound range of the two earlier Sound Systems and offers a whole host of features:-
10 factory preset voices and an additional 10 user defined voices encompassing both petrol and diesel engine sounds
Provision for a second throttle input – the engine note follows the faster of the two throttle demands
Push button neutral setting
Provision to process an auxiliary input channel, either digital (switched) or proportional (joystick) which may be used as follows
Digital - use for horn on/off OR engine start/stop (user choice)
Proportional - use opposite throws of the joystick for horn on/off AND the engine stop/start (toggle action) though the user may prefer engine stop/start to be throttle dependent
Horn - uses the engine speaker, replacing the engine sound whilst operated - sounds at maximum volume regardless of engine volume setting
Push button adjustment (during real-time operation) of
Tick over
Top speed
Number of cylinders – from 2 to 6, though single cylinder operation is simulated in voice #6
Engine 'voice' – 10 fixed, 10 custom (user defined)
Pitch of the horn
Idle timeout period (only valid for auto start/stop option) – 0 to 90 secs in 10 second increments, or continuous running
Voice designer mode (for custom voices only)
Set pitch for each cylinder (128 possible values)Set duration for each cylinder (5 possible values)
All settings are saved into the Sound System's non-volatile memory and are retrieved at switch-on the next time the Sound System is powered up.
Volume control – controls engine sound volume only
In all cases the engine sound varies smoothly and proportionally with the throttle demand in both forward and reverse. A further input may be assigned to a second throttle channel in the case of twin screw boats or 'tank' steered vehicles.
The Sound System can be used with any radio system, including PCM, that utilises the industry standard 1-2mS servo signal. 'Neutral' (i.e. joystick at centre position) is generally set at 1.5mS, though the Sound System can cope with any neutral setting within the entire industry standard range to accommodate 70/30 pistol type transmitters often supplied with model cars, or forward only speed controllers. The neutral condition is indicated by a case mounted status LED which assists in setting the transmitter throttle trim. The range and the neutral zone of the throttle response may also be set by a simple push-button procedure.
Supplied complete with a full set of printed instructions and the parts necessary to make up a RC lead to attach the sound unit to the radio receiver. If using the second throttle input or the horn option, you will require a second RC lead (plug to plug) or you can make your own up to your desired length using our female/female pre-made wires and housings. If space allows we recommend our 10W speaker although we do have other types available.
SPECIFICATIONS
Speed demand sensing method
Receiver throttle channel(s) - Sound System has pass-through(s) to ESC(s)
Neutral (idling) signal condition
May be set by push button anywhere in 1mS to 2mS range
Joystick span adjustment
Ensures full throttle condition can be achieved for transmitters producing less than the full 1mS to 2mS range. Also matches full throttle to the larger span in offset neutral applications (70/30 or forward only controllers)
Receiver voltage (which powers the Sound System's electronics)
4.8V min to 6V max (this is usually supplied by a nominal 5V BEC which is often incorporated in the ESC) DO NOT USE A "6V" LEAD ACID BATTERY – a fully charged one of these can output as much as 6.6V. Your receiver and servos may stand it, but this Sound System won't!
Speaker impedance
8 ohm minimum (Technobots part no. 2400-015 recommended)
Speaker supply voltage
From zero to '12V'. There is a 16V rated capacitor across this input, exceed this voltage at your peril! A fully charged 12V lead acid battery will be in the region of 13.5V and hence is ok, but 12 cells NiMH, a nominal '14.4v', will exceed 16V when fully charged and is not ok.
Engine 'voices'
20 different voices (10 fixed, 10 user defined), encompassing 'petrol' and 'diesel' characters
Number of cylinders
Selectable from 2 to 6, though single cylinder operation is simulated in voice #6 (see later)
Engine stop/start
Choice of automatic or manual – automatic is determined by the throttle demand and the idling period, whereas manual responds directly to an auxiliary r/c channel
Engine idle timeout
For the case of automatic start/stop, the idling period may be set from zero to 90 seconds in ten second increments or optionally continuous running may be set.
Dimensions (including flange mounting base)

Overall length 96mm, overall width 54.5mm, overall height 29mm, weight 58g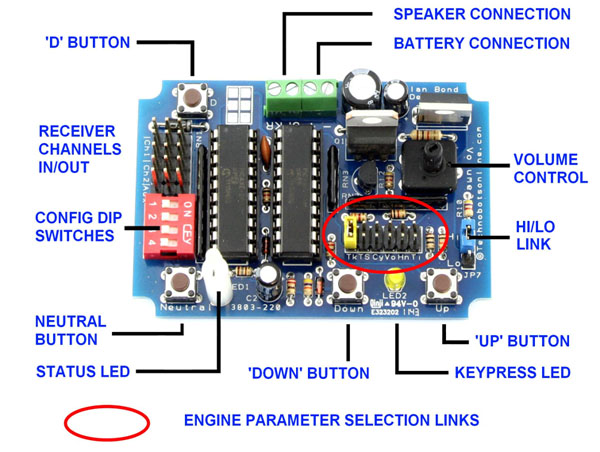 Download the PDF version of the 36 page user manual from the 'Downloads' tab for full details on how to install (with wiring diagrams) and program the engine sound system.
Video Overview of the Programmable Engine Sound System
Just a few of the companies Technobots are an official distributor for: