Machining Services
Our machine shop has also been re-located as part of the business move to Rugby, we anticipate the machines will be operational around mid December. Orders placed which include custom bore sizes and tapped holes will be processed as soon as the machines are spinning again.
---
Powered Wheel Hub Motors

The HUB-ee is a type of robot servo but designed for wheels, in fact it is a wheel, but it is also a motor, a sensor and a motor controller.
When you want to add wheels to your robot you would normally start with a whole collection of parts: The motor and gearbox, a motor driver board, and maybe some sensors for measuring wheel speed and a controller to count revolutions or provide closed loop speed control.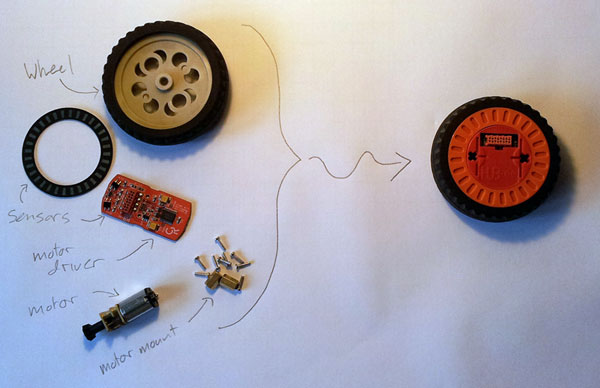 Creative Robotics thought it would be handy if you could just buy a wheel that had all of those things build in so they set about designing one and the result is the HUB-ee - just bolt it onto a chassis, apply power and away you go!
Removable 12mm gearmotor - available in a range of gear ratios (currently available 20:1 and 30:1)
Integrated, open source PCB with:

Motor driver IC
32 stripe (128 counts per revolution) quadrature encoder

Designed for tyres or tank tracks
Two internal threaded inserts (metric M3 or imperial 4/40) make it easy to bolt on to a chassis.
LEGO®
Compatible mounting sockets (with a Mindstorms NXT compatible PCB coming soon!)
They are easy to take apart so you can remove or replace the motor or electronics, and we are developing a range of different circuit boards with features ranging from LEGO NXT compatibility to full closed loop speed control (so you can plug it in and control it as easily as a hobby servo).
Pronunciation? ... It's HUB as in wheel hub, with an ee as in e-mail.

LEGO®is a trademark of the LEGO Group of companies
Just a few of the companies Technobots are an official distributor for: