Overview
A HUB-ee wheel with a 120:1 gear reduction, M3 metric mounting threads and BMS-S PCB so it has an on board motor driver and quadrature encoder. Also available with 180:1 gear reduction as well as with an imperial mounting version.
Dimensions: 60mm overall diameter including tyre x 20mm wide.
Supplied fully assembled and tested - A MicroMatch connecting cable is NOT included but is available from our IDC connectors section with a choice of 3 lengths.
Specs @7V: 170RPM no load. 950mA stall 100mA No load.
Quadrature Encoder: 32 stripe sensor with 3.3V logic outputs for Channel A and B - Max 128 counts per revolution.
Take the tyre off and use with our tank tread links.
View videos from the Manufacturer of this wheel on their YouTube channel.
Controlling the BMS-S Wheel
The picture below illustrates what signals you need to send in order to turn the wheel – as a basic rule, send a PWM signal to the PWM pin (kinda obvious) then use the IN1 and IN2 pins to control direction – pull one high and the other low to move in one direction, reverse them for the other. The brake mode (when both IN1 and IN2 are high) will short circuit the motor coils, forcing the wheel to stop quickly and resist movement. The Stop – No Brake mode disconnects the motor and allows it to free-wheel a little.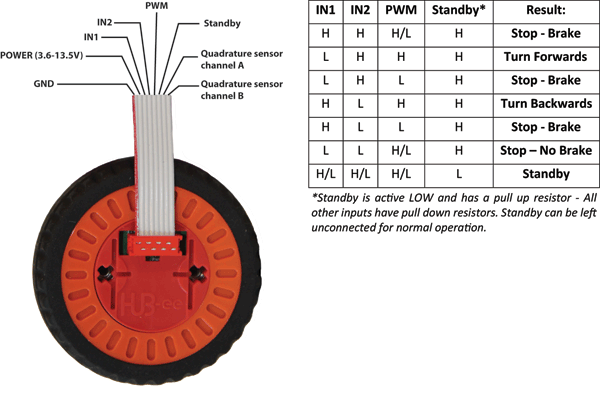 Wheel Performance (these are approximate)
Sensors
Sensor resolution: 128 pulse /revolution (32 stripe reflective sensor)
Sensor outputs: Quadrature phase A and B (3.3v logic output via 1k resistors)
What the sensors do
The wheel has a pair of reflective optical sensors that shine on a code disk in the outer rim of the wheel. Called a Quadrature Encoder, these sensors pick up the black and white alternating pattern of the code disk as the wheel turns and convert it into electrical pulses. Because of the positions of the sensors relative to the black and white stripes the two electrical outputs will produce pulses in a particular pattern that depends on the direction of the wheel – To cut a long story short, you can use a microcontroller to read the direction and speed of the wheel, and with a bit of clever control theory (A PID control loop) you can exercise some fairly precise control how fast the wheel is moving along with keeping track of how far the wheel has moved.
For more information on Quadrature encoders and PID control, start with these Wikipedia pages:
Attaching HUB-ee wheels to other things
Each wheel has a pair of metal threaded inserts inside so you can bolt it onto things securely; these will either have a metric M3 thread, or an imperial 4/40 thread, depending on the one you bought. These can be removed and replaced if you want. The bolt holes are also designed to accept the tip of a LEGO axle so you can incorporate it into your favourite LEGO creations.
The threaded inserts are 8mm long and sit in the centre of the wheel, that means that any screw you use has to go in 6mm deep before it will engage with the thread – for example, if you want to bolt the wheel to a 3mm thick piece of plastic then you are going to need a screw that is around 12mm long.
Take care when bolting the wheel – try not to over tighten the screws – the current design is not quite as strong as we wanted where the inserts are so if you over tighten the screws you can cause some minor damage to the insides – fortunately not enough to stop the wheel working!
Each wheel also comes with a handy right angle bracket designed to make it easy to attach to a flat chassis – ok, we lied a bit, the bracket is *almost* right angle (actually 89 degrees) thanks to the requirement for it to come out of the mould easily. It has a pair of slots so you can put bolts inside and have something to screw a screw into, these slots will take a metric M3 bolt, or a small 4/40 bolt (Some 4/40 bolts are too large)

The screws that go in at the top, through the nuts (see pic above), will press up against the screws that bolt the bracket to the wheel if they go in too far.
As an alternative mounting solution for people who prefer imperial screws you can always try this metal bracket.
Just a few of the companies Technobots are an official distributor for: