| | |
| --- | --- |
| | We have over 700 end of line + a few over stocked items available at discounted prices whilst stocks last. Look out for the them as you browse, download a complete PDF list or visit this page. |
---
Best Selling Products in this Section
MOD 2 Steel Spur Gears
MOD 2.0 spur gears, with the most popular sizes carried in stock including our own branded Tbot range. Non-preferred sizes are available to order)

These gears are supplied with a pilot bore that can be machine to a larger accurate diameter (subject to boss size) although many users find the pilot bore quite acceptable.

Tooth width: 20mm
Boss width: 15mm
Overall width including boss 35mm
Gears manufactured to DIN 867, DIN 3962 and DIN 3963.
Orders placed that also contain both normal stock items and special order items may be held back and shipped once the Special Order Gears are ready for dispatch.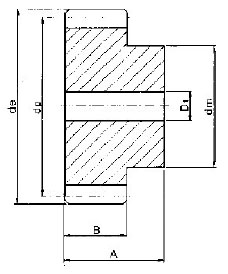 MOD
2.0



Bore size is subject to change from table below, if bore size is critical then select 'Custom Bore Size' with bore required when making purchase.

Overall Width 'A'
35mm


Tooth Width 'B'
20mm


Teeth
Diameter 'de'
PCD Ø 'dp'
Boss Ø dm
Bore Ø 'D1'


Teeth
Diameter 'de'
PCD Ø 'dp'
Boss Ø dm
Bore Ø 'D1'
12
28
24
18
10


47
98
94
60
16
13
30
26
20
10


48
100
96
70
16
14
32
28
22
10


49
102
98
70
16
15
34
30
24
10


50
104
100
70
16
16
36
32
24
10


51
106
102
70
16
17
38
34
25
10


52
108
104
70
16
18
40
36
25
10


53
110
106
70
16
19
42
38
25
10


54
112
108
70
16
20
44
40
30
10


55
114
110
70
16
21
46
42
30
12


56
116
112
70
16
22
48
44
30
12


57
118
114
70
16
23
50
46
30
12


58
120
116
70
16
24
52
48
35
12


59
122
118
70
16
25
54
50
35
12


60
124
120
70
20
26
56
52
40
12


61
126
122
80
20
27
58
54
40
12


62
128
124
80
20
28
60
56
40
12


63
130
126
80
20
29
62
58
40
14


64
132
128
80
20
30
64
60
40
14


65
134
130
80
20
31
66
62
45
14


66
136
132
80
20
32
68
64
45
14


67
138
134
80
20
33
70
66
45
14


68
140
136
80
20
34
72
68
45
14


69
142
138
80
20
35
74
70
45
14


70
144
140
80
20
36
76
72
45
14


72
148
144
80
20
37
78
74
50
14


75
154
150
80
20
38
80
76
50
14


76
156
152
80
20
39
82
78
50
14


80
164
160
85
20
40
84
80
50
14


85
174
170
85
20
41
86
82
60
16


90
184
180
90
20
42
88
84
60
16


95
194
190
90
20
43
90
86
60
16


100
204
200
100
20
44
92
88
60
16


110
224
220
100
20
45
94
90
60
16


114
232
228
100
20
46
96
92
60
16


120
244
240
100
20
Just a few of the companies Technobots are an official distributor for: