Advanced Notification of Interruption to Shipping

We are now expecting to move to our new premises in Rugby during the last week in November. During the move, we will not be shipping any orders out for the period Tuesday 25th November to Tuesday 2nd December. Last shipping day will be Monday 24th November and re-commence Wednesday 3rd December. Orders placed after 12 noon GMT on the 24th will be processed from the 3rd December
Machining Services
Whilst our machine shop is re-located, we are unable to carry out machining modifications on gears, sprockets, pulleys etc. Any order placed which includes machining options is unlikely to be processed until mid December.
---
Dive in to Model Submarines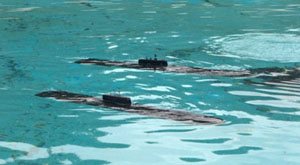 We operate swimming pool runs about three to four times a year for radio control model submarines. These are held in London and surrounding counties. We communicate via email and through a free Facebook site.
Just a few of the companies Technobots are an official distributor for: