Machining Services
Our machine shop has also been re-located as part of the business move to Rugby, we anticipate the machines will be operational around mid December. Orders placed which include custom bore sizes and tapped holes will be processed as soon as the machines are spinning again.
---
Dive in to Model Submarines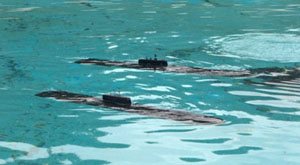 We operate swimming pool runs about three to four times a year for radio control model submarines. These are held in London and surrounding counties. We communicate via email and through a free Facebook site.
Just a few of the companies Technobots are an official distributor for: